well this is one helluva way to ensure you'll never have a boyfriend again. Now that her picture and name are all over national tv, she'll never have a guy that will trust her.
If I was this guy, I'd have beat her ass for this crap
. Women that do this crap pare just evil evil beings that manipulate to get their own way, without thinking about how it effects others .
MIAMI, Florida (CNN) -- Meagan McCormic faced television cameras on Christmas Day to plead for the return of her missing 5-month-old son.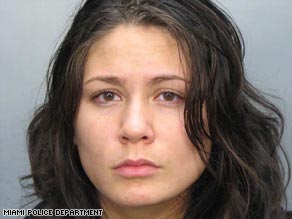 "I don't even know if he's dead or alive," she said.
In fact, she knew that the child had never existed, police said.
McCormic was trying to lure an ex-boyfriend back when she invented a missing-child story that triggered a statewide search this week, police said Friday.
Investigators have charged the 22-year-old with filing a false police report. If convicted, they said, she may have to pay authorities for the cost of their search.
She was scheduled to appear in court Friday afternoon.
McCormic had described her infant son as having a mohawk, a single tooth and a fake tattoo. She told reporters his name was Riley Buchness and that she had left him with a nanny who had a French accent and a gap between her teeth.
She invented the story to lure back an ex-boyfriend by pretending he had fathered a child he did not know about, said Delrish Moss, a spokesman for the Miami Police Department. When the boyfriend showed up and asked to see the child, Moss said, McCormic told him the boy was missing.
"He finally decided to show up, and she created a story and he had no idea," Moss said.
On Christmas Day, the estranged boyfriend attended a news conference with McCormic under the impression that he had a son who was missing.
"I don't understand," John Buchness, 26, said then, choking back tears. "It's Christmas."
McCormic told police she had left her son with a nanny named Camille.
"I don't know if they're in Florida," she said. "I don't know where they are."
Authorities around Florida started looking for the boy and nanny, using the descriptions McCormic supplied, police said. She even gave police a picture of the boy, but Friday they said they believe she had downloaded the photo from the Internet.
Authorities have called off their search.