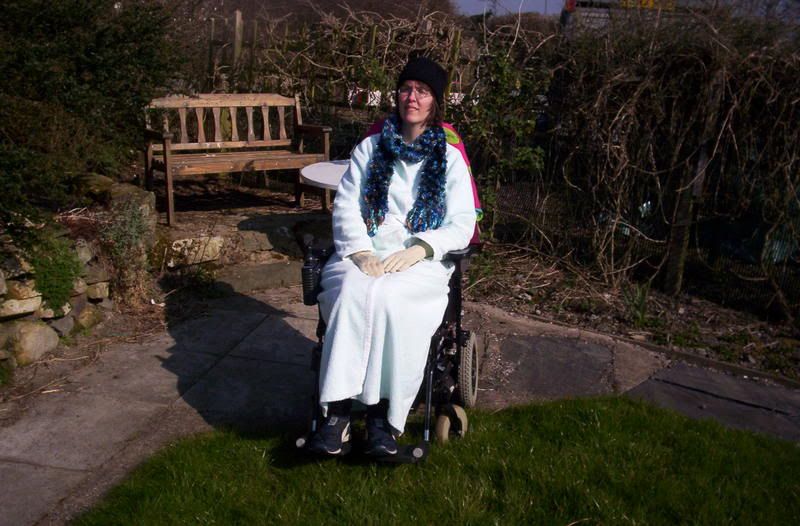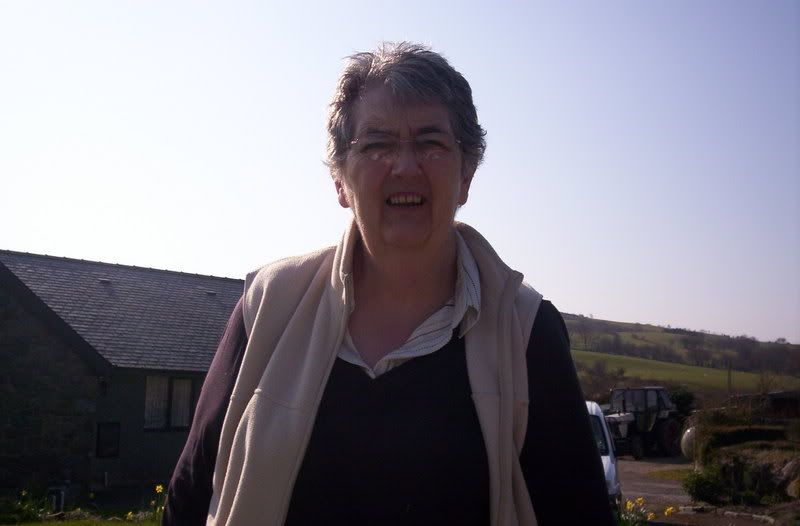 It was a sunny Sunday morning, so I decided to venture out to the garden myself, armed with digi camera and the all important photograph taker, none other than the antithesis of David Bailey, my Mum!
Wearing Long Tall Sally mint dressing gown, (no time to get dressed, gotta catch the sun before it goes to hide) 5 foot in length and enough to cover some our cute Mania female members from head to toe, bright turquoise scarf from not so cutting edge Siop D.E in a back of beyond beautiful Welsh town in Southern Snowdonia, gloves won in Church sale tombola, belonged to former organist who has sadly had three fingers amputated
, and pair of most ancient and comfortable ever puma federsock pull on trainers (desperate to find another pair, if anyone knows where I can buy some please let me know) and black hat, I sat back, got myself into model mode and prepared for the photoshoot!
The results as you can see, were not quite NAomi Campbell!
Pic 1
Jawsie's mum: "Hmm, the camera doesn't work"
Jawsie: "Are you sure, I think I saw the flash go off and heard a click, bring it here and I'll have a go"
Pic 2
Jawsie: "Look, pic of you Mum, it does work,I think you may have taken a pic of me with your first shot too, the camera doesn't make a loud click"
Jawsie's mum: "Eh, ok, are you sure, right I'll try again"
Pic 3
Jawsie: What, is it still not working?
Jawsie's mum: No, I don't think so...
Jawsie: Oh it doesn't matter, I'll go get Gwion. goes to house, finds teenage son lifeless in bed with post Saturday night hangover! Decides to go to computer and see if any pics have been taken, finds two, albeit horrible ones!
Pic 4
In true CFS style, worn out! The part time siesta queen settles down for some shuteye
Pic 5
Post siesta, bright eyed and bushy tailed, fully dressed and armed with digi camera, takes a pic of self, Why didn't I do that in the first place!
*Pics 4 and 5 in next post, used up too many images!