So I just hit 3,000 total post and 2 years ago today I joined BC it's my anniversary kind of thing I feel special. I just wanted to say to all of you it's been pleasure to get to know all of you and I've learned more about Broncos past and present since joining and even some of you have life stories/real life issues that I have enjoyed reading thanks for sharing btw
. I know not best member on here my grammar is sometimes terrible and I can prolly get on you're nerves once in a while like we all do. Anyway long story short thank you all BC members for making me a better person I plain on being here forever I love it here!!!!
One last thing I had to say Broncos are only team in my entire life I have loved as munch as my family they are like a family member to me. I started watching them back in 1996 when I was 7 years old when Elway was playing and have followed them closely ever since I wish I could show you guys pictures of my room I might sometime I just need a digital camera 'sigh'. Well I'm off I will be sleeping with my Broncos blanket tonight.
Lets kick some Colt butt this Sunday!
GO BRONCOS!!!!!!!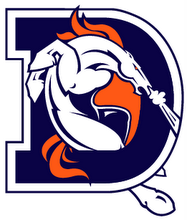 P.S. I love you all!