if you have no idea what happens on june 1st, then its the release date of backbreaker in the US. seriously, i don't know how the ONLY current alternative football game to madden as of now is not getting any popularity whatsoever.
if you didn't know already, backbreaker uses a physics engine to generate tackles on the fly and, based on gameplay videos, appears to have way better blocking and of course, physical interactions. yes, that means no more adrian peterson breaking 6 man gang tackles, and no more running in place behind your offensive line.
of course, seeing as its the first backbreaker game, you might think that its not as fully "polished" presentation wise as madden. there are some things that kind of bother me, but not anything major. presentation trumps madden imo. here's the denver stadium: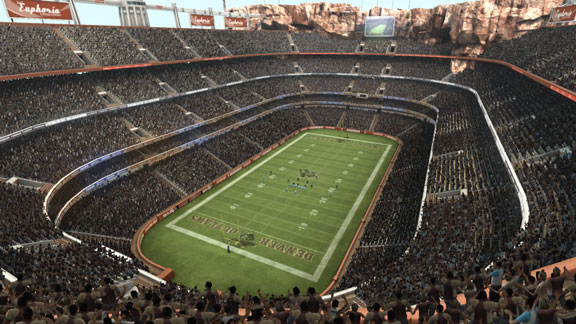 link
to more photos
example of the menu
link
to more menu screenshots
the gameplay isn't exactly barebones either. you quick game, "tackle alley" (essentially an arcade type kick off return where you can play alone or actually play with your friend and stiff arm him into defenders) franchise mode, and "road to backbreaker" which is their rendition of a more in depth franchise mode
of course, the main thing we would worry about is the lack of real nfl teams. the good news is, the teams are fully customizable and you can save up to 32 custom teams on top of their 60 preset fake ones. there will almost definitely be people who will create and upload the entire nfl so that it would be possible to download it via usb.
now, i don't want this to be any kind of "madden vs backbreaker thread". i just think that when madden has had a monopoly on the football gaming world for the past 5 years, then an underdog like backbreaker that can finally make football gaming "next gen" deserves some recognition. as of now, it is just kickstarting its advertising campaign so not many people have heard of it. so its always worth spreading the word.