For those of you interested in our uniforms...
I'm not 100% sure these are the new Nike jerseys or the old Reebok ones, so see for yourself.
Scroll down to the video. The Broncos part starts at 10:28.
Here's a screenshotI took of it.
There is no visible manufacturer logo on the jerseys, but the pant stripe is more pronounced and carries over onto the shin like in the other
photos
we've seen of the Nike jerseys, which leads me to believe that these jerseys showcased in the above clip are Nike jerseys and not the old Reebok ones. Which means that our alternate jersey will simply be our home jersey from last year. Pretty lame. I was hoping we'd go with a throwback like either of these two beauties as our alternates.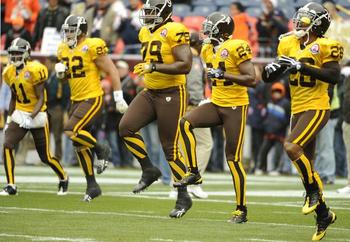 And if not a throwback, now that Nike is on board we should at least mix it up like Boise State does for example.
Maybe sometime in the future we'll get a real alternate. I'm still holding out hope that we'll have an orange pants option on the road this year!