I went with my parents and godson.....Whatta good time!
It was chilly until about the 4th qtr...then it was downright freezing....and by OT there was blizzard like snow. We were up in the top section, so the snow was pretty cool looking. What a kick ass stadium we have. The way the seats are built, you can see everything down on the field very well, even from the top level. We were in a section that had a lot of Minnesota fans....I had WAY too much fun messing with a blondie chica that was cheering for them. Everytime she said Come on Vikings get it together....I rang back, that or get a new QB :whistle: She'd say Offense, I'd scream DEFENSE. That was fun!!
Troublemaker...that's me!
My dad is a goof....they handed out these Bronco things that you hold onto each side and pull out and they have the bronco logo. My dad was walking up the ramp and every time a Vikings fan walked down, he'd hold onto each side in his jacket and pull it apart, looked like he was flashing them.....we all nearly died laughing!
I have to see if I can get videos loaded up here somehow as I got a couple pretty good clips on my camera.
Here's a couple pics from the game..
He's really a Broncos fan, but the jacket looks like a Raiders....

It was still rather warm in this one...
Opening sequence..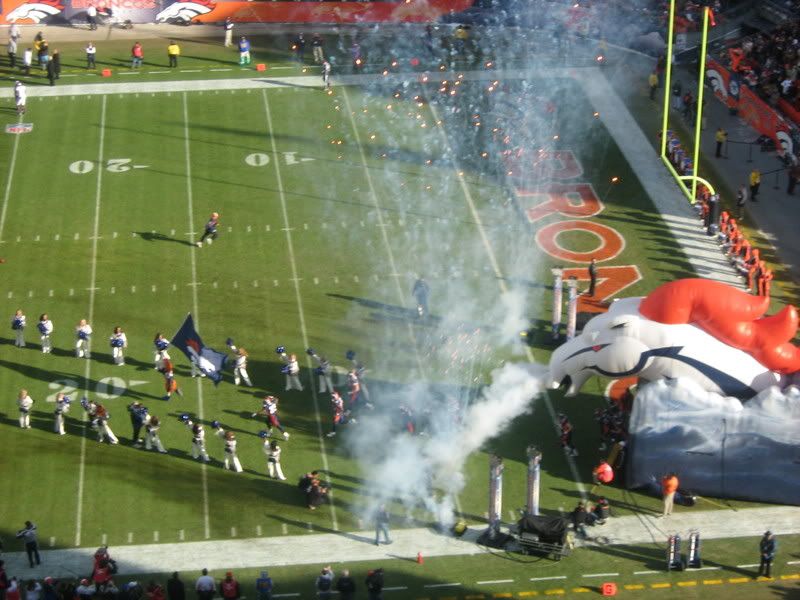 More to come...