Yes folks, no lie!
I have been in contact with Rod Smith... THE Rod Smith!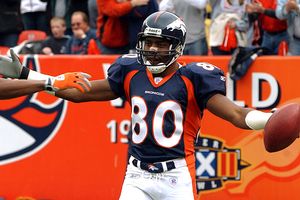 Roddy has agreed to take part in an interview!
The best part about this interview, is that YOU will be the ones asking the questions!
I have been hoping and working for an opportunity like this to come along, don't let it go to waste!
Rod Smith, one of our most beloved Bronco GREATS of all-time; This is a wonderful opportunity for you to ask him something you've always wanted to know! Rod is a busy man, but he's going to take the time to do this on his own for you, the fans!
Think hard of something you've always wanted to ask him! Broaden your horizon. Remember, all though he was one hell of a football player, he is an individual! Want to know more about his off the field life? Ask away. Although we LOVE football, you can ask him whatever you want!
So post away!! Ask your questions!
I will be taking the 20 best questions
. Please don't feel discouraged if I don't select one of yours. I'm trying to find 'fresh' questions, and something that hasn't already been asked in Roddy's career; or something that we obviously know about him. Keep posting the questions, the more the merrier!!
I will let this thread go for the night, and to mid day tomorrow. After that, I'll collect which questions I think are reasonable to ask.
Ask away Broncomania!
PS-> The interview format isn't going to be a live phone call or in person interview with youtube; sorry.
Rod is very busy with his business, as I am with school. But he has agreed to answer a set of pre-written questions that I'll send him; in which he'll reply back to me. Either way, it's pretty cool!