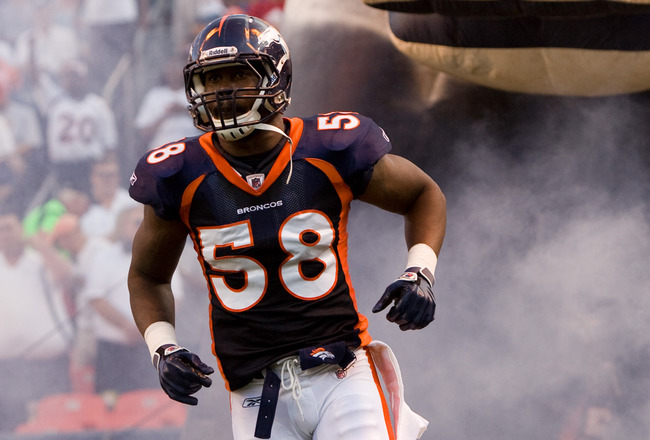 1.*Von Miller, Broncos LB (first round, No. 2)

Miller is the best rookie in the NFL right now, and the competition isn't even close. He continued to shine last week against the Titans.

2.*Cam Newton, Panthers QB (first round, No. 1)

In awful weather conditions, his numbers did not approach what he did in his first two starts, but Newton earned his first win as a starting quarterback. Newton also is already proving to be an excellent deep passer, and Carolina has made its running game an afterthought.

3.*Denarius Moore, Raiders WR (fifth round, No. 148)

Moore often did battle with Darrelle Revis on Sunday. But he still found a way to make his presence felt with a run for a touchdown late in the game on a reverse. This guy is a big-time playmaker.

4.*Phillip Taylor, Browns DT (first round, No. 21)

Taylor had another sack in Week 3. Known as and built like a run-stuffer, he brings much more than that to the Browns' defense. He certainly isn't in this class yet, but he has some striking similarities to B.J. Raji -- and that is extremely high praise.

5.*Daniel Thomas, Dolphins RB (second round, No. 62)

Thomas has put together back-to-back impressive games. The job is his now.

6.*A.J. Green, Bengals WR (first round, No. 4)

After a fantastic Week 2, Green and the entire Bengals' passing game dropped off considerably against the 49ers. With a rookie behind center, there are sure to be plenty of ups and downs during this season. I can't say I am particularly worried about this young man, though. He has special talents.

7.*Ryan Kerrigan, Redskins LB (first round, No. 16)

Kerrigan often squared off against Tyron Smith, another very impressive rookie, Monday night. The Cowboys' offense was stricken with key injuries, but Kerrigan & Co. were stifling for the majority of the evening. The rookie edge player stood out once again.

8.*Mason Foster, Buccaneers LB (third round, No. 84)

Foster is playing every down now and wearing the headset in his helmet. Those are huge strides for a rookie linebacker in his third start. He is also extremely productive.

9.*Mike Pouncey, Dolphins C (first round, No. 15)

Like his brother a year ago, Pouncey has exploded on the scene at center. He has done a very nice job of opening holes on interior runs and isn't a liability in protection.

10.*Julio Jones, Falcons WR (first round, No. 6)

Jones started the season slowly and started Sunday's game slowly. But he emerged and went more than 100 yards receiving against the Bucs. Immensely talented but still very much a work in progress, Jones should have an up-and-down rookie season -- with some very high peaks.

Other notables: J.J. Watt, Texans DE; Mark Ingram, Saints RB; Marcell Dareus, Bills DT; Jabaal Sheard, Browns DE; Tyron Smith, Cowboys OT; Adrian Clayborn, Buccaneers DE; Randall Cobb, Packers WR; Drake Nevis, Colts DT.
http://espn.go.com/nfl/story/_/page/...-featured-back
These rankings change week to week and this is the 2nd week he's #1.
Keep doing your thing Von! Win DROY!