Ray definitely get's high creativity marks (8.3) but earns negativity marks for childish theatrics he has not earned the right to being a rookie (-3) .
Score: 5.3
Bonus points to Ray for copying an earlier Miller sack of Rivers. Film Study Bonus:
+10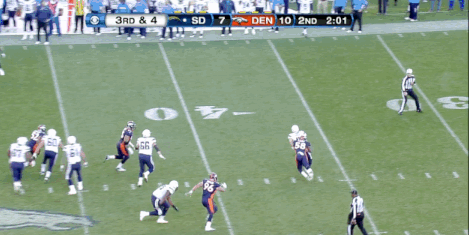 Final score: 15.3
Miller... I have no idea...
Score: 3.5
Though Miller did have two sacks, his second, though entertaining for other reasons, did not end with a dance and will not be considered.
The winner is the Ray vs. Miller "Sack Dance Off" -
Philip Rivers Edition
is Shane Ray.