With the departure of Warren and Kennedy and the cuts to make the 53 man roster, it's time to size up the DL going into the season. Frankly, at this point it doesn't look very good. Downright frightening would be a better term for it! Last year the DL was pretty much horrible, but there was at least an excuse. The team lost 3 starters from 2005 during the off-season: Courtney Brown, Trevor Pryce and Gerrard Warren all were lost to either FA or injury for all (Pryce, Brown) or most (Warren) of the season.
This year after massive efforts to re-tool the DL we have the following result:
TACKLES
1. I'm shocked that Jimmy Kennedy was cut! No, wait a minute, I'm shocked that he was signed in the first place, then cut, wasting a 6th round pick.
I never understood this trade to begin with but I assumed Bates knew something that made it make sense. Now we learn that he didn't!
Jimmy Kennedy was run out of St. Louis because he couldn't/wouldn't clog. He just wanted to rush the passer and wasn't strong in run-support. He came here to a defense where he was asked to clog. He didn't look good trying to do that during the pre-season and now he's gone.
Why was any of this unpredictable?
Now the Broncos have possibly the worst starting DTs (besides Adams) in football:
1. Sam Adams.
Sam hasn't looked good during the pre-season, but hopefully that will change during the regular season. Even if he's great, he can only play at most about 15 snaps a game, if they want him to make it through the season that is. That leaves a LOT of time where his backup will be playing in his place. So, we should really call the #2 guy behind Adams a co-starter.
2.
1. Amon Gordon.
Amon Gordon would have a tough time making virtually any other roster in the NFL. He's a career backup at best, a practice squad player who's here today and gone tomorrow on most teams. Here, the utter poverty of talent at DT has him starting. That's not a good sign.
He gets pushed around like the 98 lbs. weakling in the Charles Adams commercials.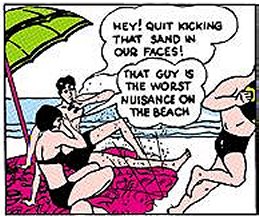 Unless that changes in a hurry the Broncos defense will be at a huge disadvantage starting the season, since he's the guy who's supposed to stand up blockers and hold his ground in the middle. He has no pass-rush ability at all of course and can't collapse the pocket.
3.
Marcus Thomas
will play at least 1/2 the snaps behind Gordon. Thomas has tons of potential but is probably about 2 years from being ready to start and be a serious factor in the NFL. He's going to be thrown in there his rookie year and hope for the best. Thomas looked very rusty during the pre-season and clearly needs some work, considering he missed virtually his entire senior season in college. Best hope is that he develops fast and becomes a real contributor later in the year. For now he's more a liability than an asset.
3.
Antwon Burton
. I just assumed that Antwon Burton would be cut, because he's not even good enough to be a backup or play special teams. He's the sort of player who would never make the roster on any team with decent DL. He's worse than Mike Myers who was last year's scrub of the month.
Do you realize that if Adams gets hurt/tired/can't play, which is almost certain at some point in the season, given his age and history of knee injuries, Burton is the STARTER? Right now he's listed on the depth chart at #3 behind Adams and Kennedy. Now with Kennedy gone he presumably moves up to the primary backup.
I can't believe that he's not only going to make the team, but actually play 1/2 the time!
Now try and wrap your mind around this one!
"Starting at DT for your Denver Broncos: LT Antwon Burton, RT Amon Gordon." Save the retching for later.
4.
Alvin McKinley
. Alvin McKinley is basically the backup for Amon Gordon if Thomas isn't ready to go. He's too small at 6'3" 294 to clog in Adam's place, so he plays the RT position. He's really a backup, similar to Mike Myers. If he has to start you're probably in trouble. That said, I'd actually be happier seeing him starting instead of Gordon. At least with McKinley you know what you're getting (not a whole lot, but he's a veteran and is consistent).
If Thomas is deemed ready to backup Gordon, McKinley will stay at #3 in the rotation and won't play a lot.
I'll save the analysis of the ends for Part II. This is enough to start with!