Foxsports-
POINT NO. 3
The Jay Cutler saga just got a little more interesting this past Wednesday.
OK, so by now you might be getting as bored with the Jay Cutler trade talk as you used to get every time you heard that Brett Favre was retiring.
Ho-hum.
But when I learned earlier this week from one of my sources that the Broncos had lined up a private workout with West Virginia quarterback Pat White, just one day after the New England Patriots took a look at him, I found some renewed interest in the finger-pointing fiasco that's been playing out in Denver.
I honestly think the Broncos are preparing for the worst—a messy divorce with their young, talented quarterback. And with the various trade scenarios that are being rumored, one common theme is evident: The Denver Broncos won't have a quarterback as talented as Jay Cutler at the top of their depth chart when the dust settles.
JAY CUTLER SAGA The latest: Denver coach Josh McDaniels has pitched free agents hard: Win now and forget rebuilding. Can he keep the promise without a star QB? More ....
--------------------------------------------------------------------------------
Czar: Like Brett Favre last year, Jay Cutler's agent portrays the QB as a victim. This seems odd, since Cutler asked out back in January. More ....
--------------------------------------------------------------------------------
Marvez: Jay Cutler's Denver house is on the market ... and so is he. Here are six trade partners the Broncos should consider. More ....
So the interest in Pat White as a potential quarterback candidate for the team is viable, providing the team with a versatile athlete who could compete with Chris Simms and whatever other quarterback ends up in Denver prior to draft weekend.
While some NFL teams may consider adding him to their roster only as a wide receiver and return specialist, more teams have undoubtedly become intrigued by the athletic quarterback after watching him throw for 332 yards and three touchdowns in his final bowl game, witnessing his MVP performance at the Senior Bowl and then watching him calmly zipping accurate passes at the NFL Scouting Combine.
If you're among the doubters who don't believe a six-foot, mobile quarterback can be successful at the pro level, don't forget about a guy named Michael Vick. Before his off-the-field activities landed him in jail, he was one of the most exciting players in the league on any given Sunday.
In Vick's two years as a starter at Virginia Tech, he averaged roughly 1,500 yards passing and 600 yards rushing per season. As a four-year starter, White's also thrown for about 1,500 yards per year, but he rolled up roughly 1,100 yards on the ground each season, setting an NCAA all-time record for rushing by a quarterback.
Wouldn't it be fun to see what he could do as a quarterback in the NFL? I hope the team that drafts him gives him that opportunity. And it could be Denver,
POINT NO. 4
NFL draft prospect Darrius Heyward-Bey is much more than just a really, really fast wide receiver.
Maryland's Heyward-Bey posted the best 40 time at the NFL Scouting Combine among wide receivers with a 4.30-second sprint. But he showed off his overall athleticism by finishing as one of the top performers in a total of six events, including both the vertical and broad jumps and the bench press.
Heyward-Bey clearly possesses one of the more intriguing combinations of size and speed among this year's draft-eligible wide receivers.
"I just wanted to show them that I was a complete athlete and a complete football player," Heyward-Bey told me during a recent phone interview. "I think they were impressed that I was able to run those times and jump like that at 6-foot-2, 210 (pounds)."
At Maryland's Pro Day, Heyward-Bey participated in the position drills so NFL coaches and scouts could evaluate his route-running and pass-catching skills.
"All the coaches said I did a great job, I looked natural out there, like a true football player," he said.
During the 2008 season, the Terps' leading receiver caught 42 passes for 609 yards and five scores, despite facing plenty of double-coverage because of Maryland's erratic offensive attack. But all that did was make the talented pass-catcher more determined, a trait that should serve him well at the next stage of his football career.
"Whatever team drafts me, they're going to get a hard worker, somebody who's going to make plays for them and who, in every game, can change the momentum of the game for them," he said.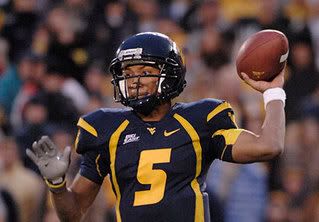 If Drew Brees at 6'0" 209lbs can do it can Pat White????????????????????
Pat White is 6'0" 197lbs at The Combine.