Rich Gosselin has been one of the most accurate Mock Draft Experts!!! I like 1 out of the 2 picks
1. Detroit Lions:
Matthew Stafford, QB, Georgia
Lions are hoping Stafford can be their next Bobby Layne
2. St. Louis Rams:
Jason Smith, OT, Baylor
Huge hole at left tackle with release of Orlando Pace
3. Kansas City Chiefs:
Aaron Curry, OLB, Wake Forest
The NFL's 31st-ranked defense needs a playmaker
4. Seattle Seahawks:
Michael Crabtree, WR, Texas Tech
Seahawks desperate for a threatening offensive weapon
5. Cleveland Browns:
B.J. Raji, DT, Boston College
Success starts with run defense in AFC North
6. Cincinnati Bengals:
Jeremy Maclin, WR, Missouri
Bengals need WR/KR to replace T.J. Houshmandzadeh
7. Oakland Raiders:
Percy Harvin, WR, Florida
Raiders need more weapons to give QB Russell a chance
8. Jacksonville Jaguars:
Eugene Monroe, OT, Virginia
Jaguars allowed 42 sacks last season
9. Green Bay Packers:
Tyson Jackson, DE, LSU
Going to a 3-4, the Packers get best 3-4 DE in draft
10. San Francisco 49ers:
Mark Sanchez, QB, USC
Success has always started at QB for the 49ers
11. Buffalo Bills:
Aaron Maybin, DE, Penn State
The NFL's 29th-ranked pass rush needs help
12. Denver Broncos:
Josh Freeman, QB, Kansas State
Without Jay Cutler, the Broncos need a quarterback
13. Washington Redskins:
Brian Orakpo, DE, Texas
Like Buffalo, the Redskins managed only 24 sacks in 2008
14. New Orleans Saints:
Vontae Davis, CB, Illinois
The NFL's 23rd-ranked pass defense needs a shutdown corner
15. Houston Texans:
Robert Ayers, DE, Tennessee
Pro Bowler DE Mario Williams had 12 of Texans' 25 sacks
16. San Diego Chargers:
Rey Maualuga, MLB, USC
Maualuga plays with same reckless abandon as Junior Seau
17. New York Jets:
Darius Heyward-Bey, WR, Maryland
Jets need to replace the speed of Laveranues Coles
18. Denver Broncos:
Peria Jerry, DT, Mississippi
The NFL's 29th-ranked defense needs across-the-board help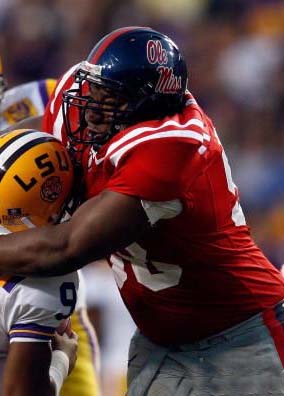 19. Tampa Bay Buccaneers:
Beanie Wells, HB, Ohio State
With Gruden gone, Bucs become power-oriented on offense
20. Detroit Lions:
Ziggy Hood, DT, Missouri
Detroit's two starting DTs gone from a year ago
21. Philadelphia Eagles:
Brandon Pettigrew, TE, Oklahoma State
Eagles lost TE L.J. Smith in free agency
22. Minnesota Vikings:
Malcolm Jenkins, CB, Ohio State
Vikings need a physical presence in 18th-ranked pass defense
23. New England Patriots:
Clay Matthews, OLB, USC
Bill Belichick also coached Clay's dad at Cleveland
24. Atlanta Falcons:
Brian Cushing, OLB, USC
The Falcons lost their two starting OLBs in free agency
25. Miami Dolphins:
James Laurinaitis, MLB, Ohio State
Give him a month and Laurinaitis will be running Miami D
26. Baltimore Ravens:
Andre Smith, OT, Alabama
Another gift for the Ravens – great player, bad workout
27. Indianapolis Colts:
Knowshown Moreno, HB, Georgia
Joseph Addai can't stay healthy, so help is on the way
28. Philadelphia Eagles:
LeSean McCoy, HB, Pittsburgh
McCoy is a clone of Brian Westbrook
29. New York Giants:
Michael Oher, OT, Mississippi
Gives Giants the luxury of moving Dave Diehl back to G
30. Tennessee Titans:
Kenny Britt, WR, Rutgers
Deep speed eases pressure on Pro Bowl RB Chris Johnson
31. Arizona Cardinals:
Donald Brown, HB, Connecticut
NFL's worst rushing attack gets a boost
32. Pittsburgh Steelers:
Alex Mack, C, California
Steelers need to re-establish identity as running team
Personally I think Josh Freeman has potential but would rather draft ILB Rey Maualuga and Peria Jerry. NT and a nasty LB who reminds me of Al Wilson would do wonders for our DEFENSE!!!
What does anyone think of his draft?