Does anyone even like reading these anymore? Well, I'll go ahead and do one anyways because they are kind of fun. So here we go:
Free-Agency
Resign
Elvis Dumervil
This shouldn't come as a big surprise because Elvis was the league leader in sacks. Although he needs to work on his run support a lot, he'll still receive a fairly hefty contract.
Brandon Marshall
This could actually come as a surprise move to some, but I think that the Broncos and Marshall will mend their differences. Marshall will sign a deal for about 3-5 years with incentives for off the field behavior. I, for one hope that he does indeed stay around because he can be an elite receiver if he ever gets his head on fully straight.
Kyle Orton
Even though some fans are calling for a change, this will be the right move. Orton now has a year under his belt in this complex offense. He will come back better than ever next season. But the Broncos still might be in the market for a QB in the draft.
Chris Kuper
Kuper had a down year last year because of his supporting cast. He is a really good lineman and will learn to adapt to the new blocking scheme and will benefit with an upgrade the center and other guard spot. Kuper might actually be moved to left guard, where his great athleticism and pass blocking skills will be put on better display. This way we can have more of a larger-mauling guard in the right spot.
Matt Prater
He is actually one of the better kickers in the league. He's got great leg strength and pretty good accuracy. With a few adjustments, Prater can be a pro-bowl type kicker (don't laugh at me...).
Russ Hochstein
He will add good depth to the o-line and proved he was a decent spot starter when needed. But hopefully he won't have to start too often though...
Eugene Amano
, C,
6'3" 310
I've had this player in my mocks for some time now because of his great versatility. He can play guard or center, giving us more flexibilty come draft day.
Leigh Bodden
, CB,
6'1" 193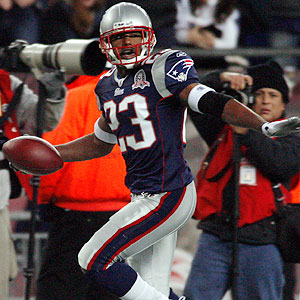 I'm not sure how much he'll cost, but I don't think he'll break the bank. He would add quality depth, youth and productivity. He played on the Patriots last year, so he might be on McD's radar?!?!
Marques Douglas
, DE,
6'2" 292
Douglas is an experienced 3-4 d-lineman and has decent size. He has the chance to become an immediate starter on the line. Look out for other players too, like Johnny Jolly who would probably project as a NT.
Jason Snelling
, RB,
5'11" 230
Snelling would be a great replacement for Lamont Jordan if we decide to part ways with him. Jason has good size and can pick up those few yards in the short yardage situations, which proved to be very difficult last year.
Cornell Green
, OT,
6'6" 315
Green used to be a Bronco when Shanny was coach, and I think he might be brought back for depth purposes. Some people think that Polumbus needs to be replaced, but I think he performed admirably, under the circumstances.
Chris Brown
, RB,
6'3" 234
This guy is big and fast; in fact, his 40 time was 4.4 coming out of college, which is quite good considering his size. He would be a good compliment to the other backs, and he might not mind coming back to where he played his college ball (Buffs). And he is still only 28...so just imagine our stable of backs: Moreno/Buckhalter/Brown/Snelling!!!
Trades
TE Tony Scheffler to Miami for WR Ted Ginn
To the casual football fan, this might look like a strange trade because Ginn is a former top ten pick. But, if you talk to any Dolphin fans or go to their message boards, it seems that they would like to move on from Ginn, some have even suggested just dropping him. Ginn's biggest knocks against him is his untimely drops, but he would be brought in as more of a return man and someone who has the ability to stretch the field. Miami will be getting a sure handed tight end who would provide a good target for Chad Henne. Not to mention, Scheffler would be a cheaper option than going after someone like Brandon Marshall, Anquan Boldin or even Vincent Jackson.
RB Peyton Hillis, WR Brandon Stokley and a 2011 6th round pick to Houston for a 4th round pick
Houston needs some depth at running back and and at wide receiver, so this trade makes sense for both sides.
continued....