I am reading all these mock drafts and big boards on draft sites, and like everyone else I am intrigued by this QB class. I am not buying the current rankings and the lack of QBs in the 1st round, as if none of them are worthy. I still remember the 2008 draft, and I believe this 2013 QB class can be 2008 all over again. There wasn't an elite QB and the "average" Matt Ryan was supposedly being pushed up because of the circumstances. Joe Flacco was not even considered a 1st round QB, ranked as the 4th QB (behind Ryan, Brian Brohm and Chad Henne). And then, suddenly, the QBs go to the top of the mock drafts because of the buzz around the NFL.
It happens all the time, especially after NFL teams start doing interviews with players, conducting private workouts, etc. Teams can fall in love with a QB's maturity and football IQ when combined with the physical tools. Expect something similar this year, and maybe we'll see some surprises on the 1st day. Obviously, NFL teams don't want to reveal their interest in the QBs, and sometimes the secret can be kept until the team is on the clock.
Just remember how Mike Shanahan did not show his hand back in 2006 and managed to take Jay Cutler after a trade. Jake Locker and Christian Ponder were surprises during the 2011 draft, when both were supposed to be 2nd round picks.
Albert Breer from NFL.com created a mock draft based on "the opinions of people positioned squarely in the NFL trenches of talent evaluation", and there was no QB in the 1st round.
Maybe the most interesting thing is that, after talking/emailing/texting with a handful of NFL executives and scouts before filing the final version of this mock, I had to remove all quarterbacks from the first round. My gut feeling is that someone, through this long process, will get pushed up. That always seems to happen, once coaches and higher-level folks get their hands on the board. But the fact is that no one I communicated with this morning thought there was a quarterback worthy of going on Day 1. As one AFC exec said, "There's a very good chance none go (in the first round). I don't know who the top one is -- total crapshoot. Geno (Smith)? (Matt) Barkley? (Mike) Glennon? (Landry) Jones? It's a toss-up."
We should have expected this kind of reaction after a draft that included Andrew Luck and Robert Griffin. In my opinion, it's an overreaction. This draft has some talented QBs and they have the tools to be successful. As outsiders, we just can't evaluate some of the most important things like leadership qualities, football IQ and the will to work extra hours to be great after football becomes a full-time job. Many times, even GMs can't get it right. I think we'll see at least two QBs taken in the 1st round (like in 2008).
...
Since I am making a comparison between QBs from 2008 and 2013, I would like to show some interesting similarities between Matt Ryan and Mike Glennon. I have no idea what NFL teams think of Glennon, and at this point most people don't have a clue. He might jump to the top 10 or still be available in the 3rd round, and I am not implying he is as good as Matt Ryan. But, at least in theory, I see many similarities between Ryan and Glennon:
Both QBs were coached by Tom O'Brien in a pro-style offense. Prototypical pocket passers with ideal height. Ryan is not as physically gifted as other QBs, but one of his strengths is his intelligence. Glennon was an All ACC Academic team member, and there is a good chance he will impress teams with his football IQ. What about stats? Look at their stats for the senior season:
Matt Ryan's stats in 2007:
388/654 (59.3%), 4507 YDS, 6.9 AVG, 31 TD, 19 INT, 127.0 RAT
Mike Glennon's stats in 2012:
330/564 (58.5%), 4031 YDS, 7.1 AVG, 31 TD, 17 INT, 130.7 RAT
Both QBs completed less than 60% of their passes as seniors. Glennon's receivers dropped a lot of passes. Both threw too many interceptions while playing with a poor supporting cast. Interceptions were one of the negative points about Matt Ryan back in 2008:
Matt Ryan's chances to win the Heisman fell sharply after he threw three interceptions in a 27-17 loss to Florida State, an unranked team that had six wins and three losses.
On November 24, against ACC rival Miami, Ryan surpassed Doug Flutie for the most passing touchdowns in a single season by an Eagle QB with 28 TD's, ultimately ending the season with 31. Despite these records, he struggled with throwing interceptions throughout the year, and finished with 19 (2nd most among college quarterbacks).
Mike Glennon has been criticized for throwing 4 interceptions against Tennessee and 3 interceptions against Vanderbilt.
Video of the Falcons drafting Matt Ryan 3rd overall: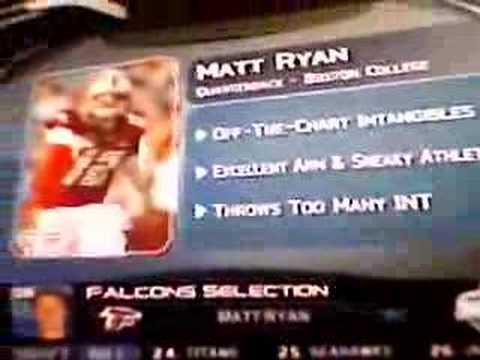 Mike Mayock's note on the video: "Throws too many interceptions". And then Mayock added: "Trust me, that's a result of trying to make plays with WRs that can't get open." Will GMs get the same impression from Glennon as we get closer to the draft?
How Ryan was perceived back in December 2007:
I agree, I don't see Matt Ryan as a Top 5 or 10 draft pick. In my mind he isn't in the same class as Brady Quinn was a year ago and is basically a poor-man's Matt Leinart. However, a lot of teams need quarterbacks and there isn't an "elite" signal caller available so just like in 2005 with Alex Smith guys are going to get pushed up.
This quote is from Scott Wright, draft evaluator from DraftCountdown.com, a famous draft site. And he was not alone when he made such comments. I am just trying to show how the talent and potential of a QB coming from college might not be always obvious.
Bucky Brooks from NFL.com wrote an article about Mike Glennon:
Charting Glennon's throws, I noticed that while he worked every area of the field, he was particularly effective in the 10- to 15-yard void between the hashes, repeatedly hitting receivers on the move on an assortment of crossing routes and square-ins over the middle. Although the over/under read is a fairly simple one, the fact that Glennon wasn't afraid to throw between linebackers speaks volumes about his anticipation and awareness.
Maybe Glennon is not as good/polished as Matt Ryan to be a top 3 pick, but can't he be one of the guys jumping to 1st round consideration in the future?
I think the QBs from this class will start to rise at some point, and Mike Glennon is just an example. I won't be surprised if we start hearing some comparisons with Matt Ryan. In my opinion, it will depend a lot on the maturity during interviews, football IQ, etc. Do you really believe no QB will be drafted in the top 15? I don't. We will hear about Geno Smith, Tyler Wilson, Matt Barkley.
And to make things even more interesting, an OT (Luke Joeckel) is being considered the safe pick, just like Jake Long in 2008. The Dolphins made the safe pick and the rest is history. This is just food for thought. It's still early in the process; I think we will see some changes in these rankings and the QBs will not remain that low.
Honestly, I was shocked when I watched a video of Blaine Gabbert against Illinois. He could not stand in the pocket and make an accurate throw, but he was drafted in the top 10 because he looks like Tarzan and probably said all the right things to impress Jacksonville. This class can certainly produce a better QB than Gabbert. This class might not be so bad.