As new GM George Paton gears up for his first draft with Denver, it is glaringly obvious what position needs dramatic improvement. In a fierce AFC West division with QBs who will be around for 15+ years in Patrick Mahomes and Justin Herbert, Paton realizes he needs to
fight fire with fire.
A great defense may snatch a win or two over these guys in the regular season, or even get the Broncos to the playoffs. But just how sustainable is a great defense from year-to-year? The amount of roster turnover from our SB-winning 2015 defense just a couple seasons later was dramatic. One player remains from that squad. Getting a franchise QB, on the other hand, ensures a decent floor every season and provides security at the most important position in football for years and years. Defenses can be band-aided or built through FA or the draft fairly easily with a competent front office and a solid scheme. That's my philosophy as an armchair GM at least.
Does the eye test tell you that the QB play was satisfactory last season? If the eye test still is not convincing, let the analytics tell the story.
DREW LOCK - NFL rank (out of 32)
Adjusted completion percentage:
68.7% (32nd)
Turnover worthy play %:
4.5% (31st)
Time to throw:
2.80s (13th)
According to the PFF 2021 QB Annual, Drew Lock had the worst accuracy in the league, followed by a debilitating turnover-worthy play rate. At best, PFF labeled Lock as "volatile" due to his positive big-time throw grade next to that ugly turnover rate. Lock also had slightly above-average time to throw, thanks to Pat Shurmur's scheme and improved OL play. There is no denying that Lock had his flashes of being a good QB, and he could still very well develop into one-- but the odds of that from these metrics have, historically, not worked out. Why sit back and twiddle one's thumbs in hopes of a bottom-tier QB (a non-1st round pick, at that) improving to league AVERAGE? That's a recipe for continued mediocrity and poor play. No more sitting back and hoping for average while other teams find their answer at QB.
Simply put, the dismal football product in 2020 significantly falls on the QB. Save me the excuses when Baker Mayfield, Justin Herbert, and even Joe Burrow had similar conditions and situations coming into last season.
PROJECTED TRADE
DET receives: 9th overall, 3rd round pick (71)
DEN receives: 7th overall
1 (7) : Justin Fields, QB, Ohio State
​
The cards will need to fall right here, so here is what I am projecting to happen in this particular mock. After Lawrence and Wilson go 1-2, SF takes Lance at 3. ATL goes for Pitts, followed by CIN taking Chase and MIA taking Sewell (could easily be Smith/Waddle too). DET wanted Sewell, but once he is off the board-- they feel like they could trade back and still get a WR or Slater. NE doesn't have the ammunition nor range that DET likes, so Paton pulls the trigger and trades up from 9th overall to get his franchise QB to start off his tenure as GM here in Denver.
After below-average QB play dating back to 2014, Denver ushers in a new era of Broncos football. No more lowly, late-1st or 2nd round gambles on a toolsy, project QB. Time to swing for the fences.
Time to draft a blue-chip, proven star quarterback with a top-10 pick, something that hasn't been done in franchise history.
Justin Fields will arrive in Denver in the ideal situation. With the acquisition of Teddy Bridgewater yesterday, Fields will have no pressure to play right away and can properly learn the offense and develop as a pro-- all while soaking in the veteran mentorship and experience from Bridgewater. When Fields inevitably takes over, he will have an above-average OL protecting him-- as well as the best set of weapons (arguably) in the NFL with the likes of Courtland Sutton, Jerry Jeudy, Melvin Gordon III, Noah Fant, Tim Patrick, KJ Hamler, Albert Okwuegbunam, and DaeSean Hamilton.
So what does the Kennesaw, GA native bring to the Broncos offense? I did a breakdown on Fields
here
. Beyond having excellent physical traits and athleticism, he has
phenomenal
accuracy. To make the most of the offensive weapons, a QB has to be able to deliver the ball and put the playmakers in position to make plays. In sharp contrast to Lock's league-worst adjusted completion percentage, Fields ranks 2nd in this draft class (80.8%). There are similarities between Ryan Day's Ohio State offense and Shurmur's system, as WRs have relatively-long developing routes and both systems share a lot of the same route combos and overall concepts (smash, mesh, flood, etc.). Shurmur likes to attack vertically, and Fields executed those kinds of plays at a high-level. Aside from the arm talent, Fields has clean mechanics and footwork-- something that I never saw hinder his timing or ball placement on film. He also knows how to manipulate defenders with his eyes and body, drawing them away from his intended target. As far as improvements needed to be successful in the NFL, Fields will need to increase his overall pocket awareness (doesn't always sense backside or disguised blitzes) and speed up his processing a little bit.
Unfortunately, I have a gut feeling that SF will draft him 3rd overall-- but with this mock, I am manifesting Fields to the Mile High city
.
​
PROJECTED TRADE
HOU receives: QB Drew Lock
DEN receives: 5th round pick (158)
With Fields and Bridgewater making up the revamped QB room in Denver, Paton ships Lock to Houston as the Texans look for Watson insurance and came away impressed with Drew's performance against them in 2019.
2 (40) : Jabril Cox, LB, LSU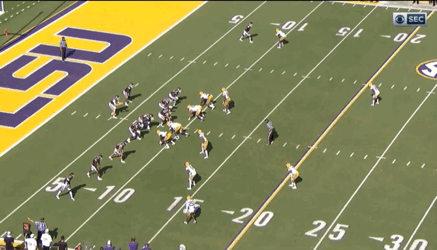 ​
Let's face it:
nobody
is stopping the Travis Kelce's and Darren Waller's of the world. One can only hope to contain them. Even against TB in the Super Bowl, Kelce went off for 10 catches and 133 yards. It's unfortunate that our defense has to face two of the best tight ends in the league four times a year. Brett Kollmann
showed
why it's not a good idea to keep trotting out Josey Jewell against RBs and TEs. It would benefit Fangio's defense tremendously to have a three-down, athletic LB with cover skills. Enter Jabril Cox. The former NDSU and LSU linebacker has great fluidity and change-of-direction ability. In the GIF above, see how Cox bites to the outside yet STILL recovers and makes the interception for a pick-six. He plays with a nonstop motor and isn't afraid to make a big hit. At 232 lbs, Cox is a bit light for the position and may struggle to consistently take on blocks and properly fill in gaps at the next level. Despite these shortcomings, he presents a clear upgrade over Jewell and is tailor-made to neutralize RBs and TEs in the passing game.
4 (114) : Ar'Darius Washington, S, TCU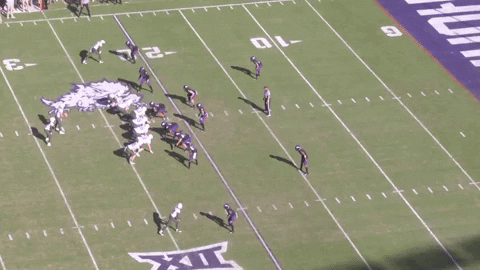 ​
This is where my projections may get a little shaky. Ar'Darius Washington could go anywhere from Rounds 2-4. I'm projecting that he falls due to his diminutive size at 5'8" 178 lbs and underwhelming Pro Day numbers. Paton and Fangio are known for being "tape" guys and after drafting Jeff Gladney from TCU last year, Paton snags the fellow Horned Frogs defensive back in the 4th round. With the 33-year-old Kareem Jackson back on a one-year deal, the future at safety beckons. Washington is a flat-out playmaker with elite instincts and vision. He has the shiftiness and cover ability to play in the slot, but also has the requisite smarts and range to line up in Fangio's two-high safety shells. Like KJax, Washington isn't afraid to lay down the boom on ball carriers. The safety duo of Justin Simmons and Washington could be a staple of our secondary for years to come.
(CONTINUED BELOW)