Arizona Cardinals Design New Helmets For East Coast Travels
January 8, 2009
By-
Ty Paige
Tempe, Az – The Arizona Cardinals, fresh off a home playoff win, have already announced new changes in the team uniform starting for the 2009 – 2010 season.
President Michael Bidwill and General Manager Rod Graves have made the announcement immediately following the Wildcard playoff victory against the Atlanta Falcons. "We set our designers to work giving them the idea to intimidate the opponents and let them know we are a force to be reckoned with, but still keep the integrity of the Cardinals logo.", stated Graves. Bidwill added, "Traditionally dark colors have a certain type of symbolism, like black. They have a common connotation with power, wealth, mystery, death, mourning, and sex." Bidwill originally asked the designers for a black helmet, but was immediately reminded that black and red were mainly the colors of the Atlanta falcons, the team the Cardinals had just recently eliminated from the playoffs hours beforehand.
The designers keeping to the idea of showing how tough and resilient the Cardinals are came up with a new style design while watching a Television show called The Dukes of Hazard. John Coleman, the head designer stated, "The team has struggled on the east coast, so I thought what usually gets people on the eastern and southern states wondering and the new design hit me." Coleman stated that this will confuse all teams east of the Mississippi River, not only making them question the actual veracity of the helmets, but also if the Cardinals are in fact human or not.
Several players from eastern teams were screen tested by showing them a picture of an Arizona Cardinal with the new helmet. 2 out of 3 players stated they were glad they were no longer in the playoffs to face the team while the third player promptly broke his own finger to purposely miss the game where his unnamed team was playing against the Cardinals.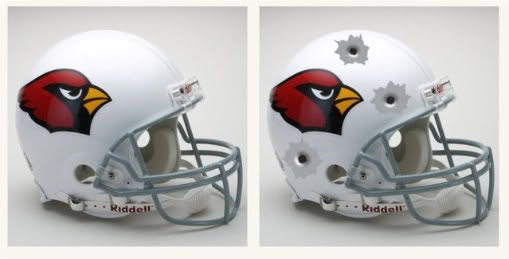 Second-year coach Ken Whisenhunt said, "I like the helmets, scientifically this should scare the other team to let our ground game progress like it has the past two weeks." When kicker Neil Rackers received his helmet, he was informed that all players will be wearing the helmets and it was in no way a personal warning to him. Rackers laughed as he noticed the new design covering his driver-side door and flattened tires but soon realized that the prank stickers were not stickers.
http://community.foxsports.com/blogs/SCELG