Some NFL observers wondered if 2013 was an aberration for San Diego Chargers quarterback Philip Rivers, as he returned to form after uneven performance in 2011 and 2012.

Well, through three week of the NFL regular season, Rivers has been the same guy. He is No. 6 in the NFL in completion percentage at 68.4 percent after leading the league in completion percentage last year at 69.5 percent.

He's tied for seventh in the NFL in passing yards with 778, tied for fifth in touchdown passes with six and is third in the NFL with a 103.3 passer rating.

Rivers has had great protection up front, only having been sacked twice. And he's done a nice job of taking care of the football, with one interception and no fumbles through two games.

Basically, Rivers has been efficient and effective in his second season operating in head coach Mike McCoy's offensive system, even with the switch at offensive coordinator, with Frank Reich moving from quarterbacks coach to the guy calling plays on Sundays.

"One thing I'm not going to do is stand back there and hold onto the ball a long time," Rivers said, when asked about the fast pace that San Diego plays in the passing game. "Bad things happen when you do that. And so the combination of the no-huddle, trying to speed things up and wear teams out, along with our high-percentage passing game, I think it puts our offensive line in better position."

Courtesy of ESPN Stats & Information, the image below shows Rivers having the best completion percentage in the NFL in the past two weeks. The visual shows his passing distance.

Rivers has completed more than 72 percent of his passes in back-to-back games for the eighth time in his career.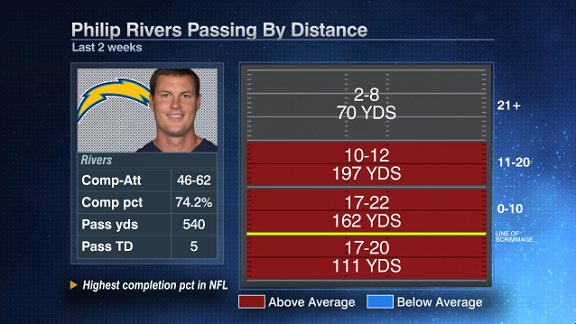 http://espn.go.com/blog/afcwest/post...icient-in-2014